See what backers received
Friends,
We are now at 33% with 36 days to go! We'd love to see this get to 50% by next week. Are you game?
Backing the project at any level starting at $1 will get you access to the future updates like these as well as to next weeks full week of coverage.
To give you a taste of what you can expect we wanted to share the below which are two of the full articles from yesterday's backer edition of NewsHero as well as samples of the others.
Thanks for reading.
Team NewsHero
Wed August 14th, 2019
Hong Kong protesters express regret as demonstrations escalate
Following tense confrontations at Hong Kong's international airport, protesters hope for only peaceful demonstrations as they continue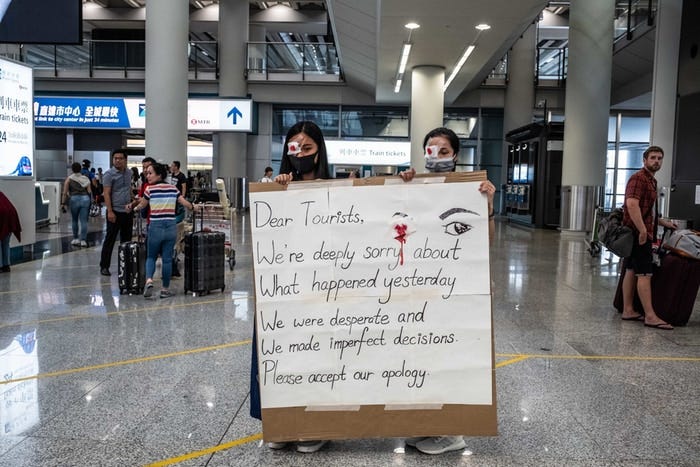 On Wednesday, protesters at Hong Kong's airport offered travelers apologies, aware of the negative image they had presented in scuffles the day before. Credit Lam Yik Fei for The New York Times
As Hong Kong enters a tenth week of demonstrations, many protesters appear to be reflecting on two days of conditions that escalated at Hong Kong's international airport, one of the busiest in the world. (For complete article see backer update)
New York law lets victims sue childhood abusers
The Child Victims Act goes into effect, allowing survivors to file civil suits against alleged sex abusers
Survivor Stephen Jimenez speaks about being abused as a child while meeting with New York Gov. Andrew Cuomo and other survivors and Child Victims Act advocates during a news conference at the state Capitol on Jan. 28, 2019, in Albany, New York. Hans Pennink / AP
A new law took effect Wednesday, the Child Victims Act, offering New York childhood sex abuse survivors a one-year period in which to file a civil lawsuit against their alleged abusers and institutions that may have allowed such conduct. (For complete article see backer update)
Civil rights agency resisting pressure from Justice Department to reverse LGBTQ position
Sources tell Bloomberg Law that Equal Employment Opportunity Commission maintaining its stance before Supreme Court case

The U.S. Supreme Court will weigh a trio of LGBT workplace discrimination controversies. MLADEN ANTONOV/AFP/Getty Images
The Equal Employment Opportunity Commission looks likely to resist attempts by the Justice Department to reverse its position on LGBTQ workers before the Supreme Court rule on discrimination case on October 8, sources have told Bloomberg Law.
The EEOC have been coming under pressure to support the Justice Department position that it would not be a violation of law for businesses to discriminate against transgender employees.
The Obama administration's stance was that the 1964 Civil Rights Act, which states that employers can't discriminate based on race, color, religion, sex, and national origin, also applies to LGBTQ workers. The EEOC has been maintaining that position, but the Trump administration DOJ argues that Congress was not considering the LGBTQ community when it passed the 1964 law.
The five-member EEOC has a 2-1 Republican majority with two vacancies. Commissioners Victoria Lipnic (Republican) and Charlotte Burrows (Democrat) have reportedly said they believe that LGBTQ discrimination is a form of sex bias banned by federal law. Sources said that Lipnic recently told the DOJ that she would vote against signing the brief.
The DOJ is representing the EEOC before the Supreme Court in the case of Aimee Stephens, a Michigan funeral home director, who was fired after announcing that she was transitioning. They have until August 16 to lay out the government's argument. The DOJ do not need the EEOC on its side but are said to want to present a unified government position.
The Supreme Court will hear oral arguments on October 8, the same day as it considers a pair of cases where gay workers say they were fired because of their sexual orientation.
Teen activist sets sail for New York climate talks
16-year-old Swedish climate activist begins journey by sea from UK to attend United Nations meeting
Tom Jamieson for The New York Times
Greta Thunberg, a 16-year-old climate change activist from Sweden was invited to attend climate talks in September at the United Nations in New York. Of course she would go, but how would she get there? (For complete article see backer update)
Environmental groups push for greater transparency in radiation spike in Russia
Questions surround radiation levels in nuclear test site accident area
Russia's state weather agency, Rosgidromet, said on Tuesday that it believed radiation levels had risen by four to 16 times in the nearby port city of Severodvinsk after the accident (Bing/Fox News)
Following an accident during tests on Saturday at a northern Russian military site, uncertainty about radiation levels in the area has been a concern. Russia's state nuclear agency Rosatom said in a statement that the accident occurred during the engineering and technical support of isotope power sources on a liquid propulsion system. Experts say it was likely a nuclear-powered missile test, which could be a sign of Russia's attempt to top United States missile defenses.
The International Atomic Energy Agency issued a statement on Tuesday saying Russia had informed it the radiation levels around the site were equivalent to natural radiation.
Campaigners and experts said although they did not want to rule out possible health risks entirely from the fallout, which they said were likely low, the main problem was how Russian authorities had handled information about the accident. "It's not really dangerous for health if it's not for really long and this spike was for less than an hour," Konstantin Fomin, a media coordinator on energy issues at the environmentalist group, Greenpeace, that has gathered its own readings in the area showing the spike was 20 times above the norm, told ABC News on Tuesday. "The real problem is lack of transparency."
The radiation spike that followed the accident, which killed five Russian engineers and two defense personnel, is potentially higher than initially indicated. Russia's state weather agency, Rosgidromet, revealed Tuesday that radiation levels had spiked by four to 16 times after the accident in the port city of Severodvinsk, located about 12 miles from the military testing range. Local authorities in Severodvinsk, a city of 183,000, initially reported a brief spike in radiation levels after the explosion but claimed it didn't pose any health hazards.
The news comes amid conflicting reports that authorities told residents in Nyonoksa, a village of about 500, to leave as part of an evacuation already planned due to unspecified activities at the test range. Hours later, however, the military said the planned activities were canceled and residents were allowed to stay home, Severodvinsk regional administration told the Associated Press. The sudden decision added to the uncertainty surrounding the incident as local officials claimed soil samples showed that radiation levels have not risen after the blast.
---
Hong Kong protesters express regret as demonstrations escalate
NY Times -Austin Ramzy
Soul Searching Among Hong Kong Protesters After Chaos at Airport
CNN - Tara John
Why Hong Kong is protesting
NPR - Scott Neuman
Hong Kong Airport Resumes Operations After Court Injunction Limiting Protests
USA Today - Vincent Thian and Yanan Wang, AP
Satellite photos appear to show China's paramilitary vehicles near Hong Kong
New York law lets victims sue childhood abusers
NPR - Mara Silvers
Adult Victims Of Childhood Sex Abuse In New York Can Sue Alleged Abusers
CBS News
New York opens door to old abuse claims: "I never thought that this moment would come"
Reuters - Tom Hals
Change in New York State law to usher in 'tidal wave' of child sex abuse lawsuits
NBC - Corky Siemaszko
N.Y. Senate votes to give victims of child sex abuse more years to sue, ending years-long battle
Civil rights agency resisting pressure from Justice Department to reverse LGBTQ position
Bloomberg Law - Ben Penn, Chris Opfer, Paige Smith
Justice Department Urges Civil Rights Agency to Flip LGBT Stance
Business Insider - Lauren Frias
Justice Department reportedly seeking to persuade EEOC to reverse stance on LGBTQ workplace discrimination
Politico - Rebecca Rainey
DOJ wants the EEOC to drop LGBTQ protections
Teen activist sets sail for New York climate talks
BBC
Greta Thunberg: Climate change activist sets sail from Plymouth
Financial Times - Leslie Hook and Victor Mallet
AP News - Jo Kearney and Danica Kirka
Greta Thunberg's sailing adventure no pleasure cruise
NYT - Somini Sengupta
Greta Thunberg Sets Sail for U.N. Climate Talks
Environmental groups push for greater transparency in radiation spike in Russia
CNN - Nathan Hodge and Olga Pavlova
Russian officials cancel evacuation of village near suspected missile accident
KTVZ
Explosion kills Russian nuclear scientists
Fox News - Travis Fedschun
Russia cancels evacuation after missile explosion, claims tests show radiation levels 'normal'
ABC News - Patrick Reevell
Russia says radiation spiked 4 to 16 times above normal after suspected missile explosion
NBC News - Sébastien Roblin
Russia's nuclear explosion shows why John Bolton's plan to kill off arms control treaties is scary